CeraTex® Ceramic Fiber Tape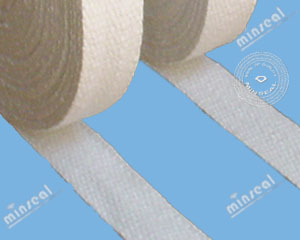 CeraTex® Ceramic Fiber Tape is a narrow woven fabric manufactured from high temperature alumino-silicate based ceramic fiber reinforced with high temperature fiberglass. The product is white and odorless, suitable for high temperature applications up to 2300°F.
Characteristics and Specs
Low thermal conductivity, low heat storage, high temperature stable, thermal shock resistant
Fire and flame proof
Chemical resistant, compatible with most corrosive chemicals, commonly used acid and alkali (exceptions are hydrofluoric, phosphoric acids and concentrated alkalis)
Lightweight, woven texture with excellent handling strength,
Working Temperature :           1,800 °F. for Continuous Use, 2300 °F Maximum
Specific Heat (@2000°F):      0.27 Btu/lb °F
Typical Applications
Safety and protective insulation covers, strip curtains, door seals;
Insulation wrapping material for cable, wire, pipe, exhaust, etc;
Gaskets, tadpole gasket and other high temperature insulation seal.
Product Styles
3120G Ceramic Fiber Tape, Standard Fiberglass Reinforced
3120W Ceramic Fiber Tape with Wire Insert
3120D Ceramic Fiber Drop Warp Tape (Bolt Hole Tape, Ladder Tape)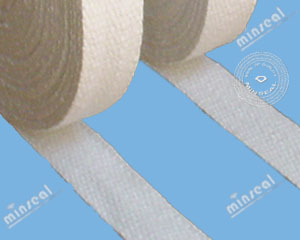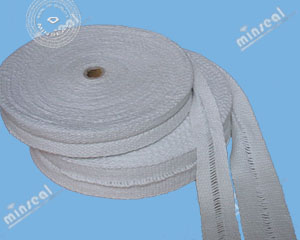 Product Sizes and Variants
Thickness: 1/16" , 1/8"; Width: 1/2" to 6"; Roll Length: 100'
Also available: Heat treated, Adhesive(PSA) back
Customer Application Notes
Heat Cleaning Process: The products contain certain amount of organic binder materials(necessary for fiber carding process). The organic binder will burn out at lower temperature and generate smokes. This will not affect the ceramic fiber properties. After the organic binder is burned out the product will turn white again. In applications where smoke is prohibited, the product should be heat cleaned or treated first before it is put into use.
Product Handling: Require protective gloves, cloth, mask and dust control. Details on product MSDS.