3170 CeraTex® Ceramic Fiber Paper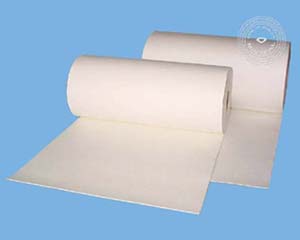 CeraTex® Paper is an alumino-silicate ceramic fiber-based non-woven fabric. It is manufactured through a special paper-making process with high purity washed fibers, suitable for high temperature insulation up to 2300°F.
Characteristics and Specs
White color, light-weight, flexible, good handling strength and good uniformity
Resists temperature as high as 2300º F, fire resistant
Low thermal conductivity, low heat storage, thermal shock resistant
Good dielectric strength
Excellent corrosion resistance (Resistant to most chemicals except hydrofluoric, phosphoric acids and concentrated alkalis)
Good for die-cut and automatic stamping
Density 12 lb/cu.ft
Tensile Strength: 100 PSI
LOI: < 9%
Working Temperature :1,800 °F. for Continuous Use, 2300 °F Maximum
Specific Heat (@2000°F): 0.27 Btu/lb °F
Typical Applications:
Insulation, lining and gasket for furnace, kiln, oven, stove, boiler and appliance;
Wrapping for high temperature pipe or metal casting;
Aerospace insulation, protection and shields;
Thermal insulation, gasket, seal, separator for ceramic and glass melting applications
Fire protection, spark and molten metal protection
High temperature electrical insulation
High temperature filtration
Seal, gasket or protection for other high temperature applications
Product Styles:
3170 CeraTex® Paper
Product Variant and Sizes
Thickness: 1/32", 1/16", 1/8", 1/4" Width: 24" and 48"
Also available with aluminum foil back
Customer Application Notes
Product Handling: Require protective gloves, cloth, mask and dust control. Details on product MSDS.